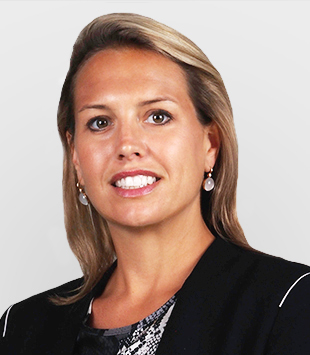 Whitney Johnson
Chief Experience Officer
Whitney Haslam Johnson serves as chief experience officer for Pilot Flying J. She joined the company's board of directors in 2015.
Whitney is responsible for elevating the guest and team member experience by working with multiple departments across the company to ensure ongoing refinement of Pilot Flying J's brand image. From marketing and communications to modernizing facilities and focusing on new technologies and innovative programs, her focus is to improve guest experiences, ensuring that loyalty and satisfaction are the focus of every Pilot Flying J interaction. Her work has been instrumental in making Pilot Flying J one of the most dynamic and recognizable brands across North America.
Whitney previously served as category manager and creative services manager for Pilot Travel Centers LLC. In 2010, Pilot Travel Centers LLC merged with Flying J Inc. to form Pilot Flying J. As category manager for the company, she focused on the tobacco and grocery categories.
Prior to joining Pilot Flying J, Whitney served as assistant controller at Marriott International Hotels.
She earned a bachelor's degree in finance from the University of Georgia in Athens, Georgia, in 2001.
Whitney led the Southeast fundraising efforts for the 2004 Bush-Cheney reelection campaign. She has served on the board of directors for the Knoxville Museum of Art and Second Harvest Food Bank of East Tennessee, as well as on committees for the United Way of Greater Knoxville.