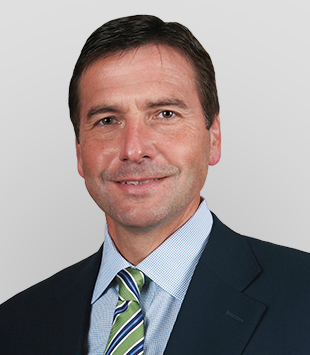 Mitch Steenrod
Senior Vice President
Chief Financial Officer/Chief Risk Officer
Mitch Steenrod serves as senior vice president, chief financial officer and chief risk officer for Pilot Flying J. He joined Pilot Travel Centers LLC in 2001, following a 13-year career with Marathon Oil Company/Marathon Ashland Petroleum LLC.
Mitch first became involved with Pilot in 2000, when he participated in negotiations between Marathon Ashland Petroleum and Pilot Corporation regarding the formation of Pilot Travel Centers LLC. When the new company was formed, he was appointed controller and treasurer.
During the latter part of 2002 and early 2003, Mitch directed the purchase of 60 travel centers from Nashville-based Williams Travel Centers Inc. This transaction further established Pilot Travel Centers as the country's largest travel center chain with more than 260 locations in 39 states.
In 2004, Mitch was promoted to vice president and chief financial officer, and in 2006 he was promoted to senior vice president, chief financial officer and chief information officer.
Mitch graduated from The Ohio State University in 1988, where he earned a degree in accounting/finance. In 1991, he earned a master's degree in business administration from Bowling Green State University in Bowling Green, Ohio.
He is active in the community, serving on the boards of CarMax, Inc. (Audit Committee Chair); Helen Ross McNabb Center; Zoo Knoxville (Finance Chair); and SunTrust East Tennessee Market Advisory.